Optimising the E-commerce Buying Journey: From Browsing to Delivery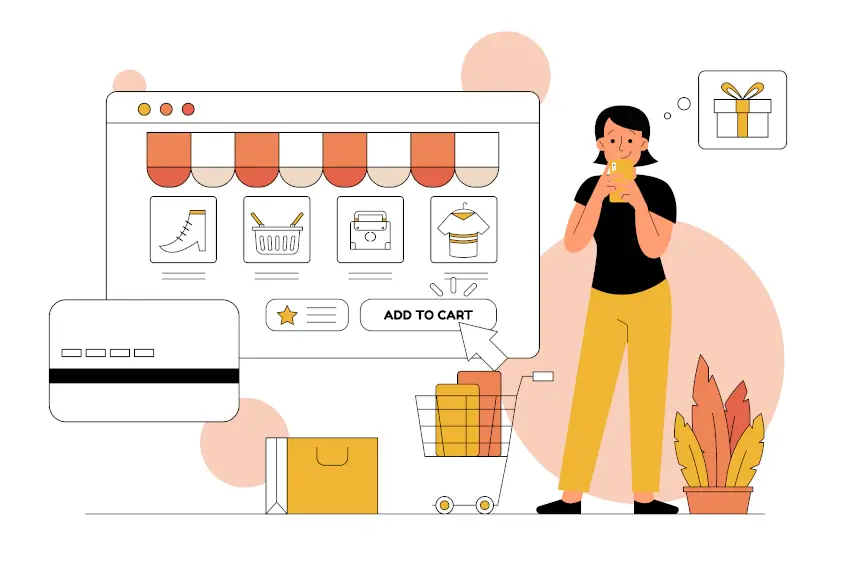 E-commerce has revolutionized the way people shop, offering convenience, variety, and competitive prices. With the rapid growth of online shopping, businesses must continuously adapt and optimise their buying journey to ensure customer satisfaction and increase sales. This article will discuss the key aspects of the buying journey, from browsing products to delivery, and offer strategies to optimise each step for an exceptional shopping experience.
Enhance website usability and design
The first step in optimising the buying journey is to ensure that your e-commerce website is user-friendly and visually appealing. The website should be easy to navigate, with a simple and clean design. Consider the following factors to enhance usability and design:
Mobile Optimisation

Ensure your website is optimised for mobile devices, as a significant percentage of online shoppers use smartphones and tablets for browsing and purchasing.

Load time

Improve website load times by compressing images, optimising code, and using content delivery networks (CDNs) to reduce latency.

Clear navigation

Organize your website with clear categories and a search bar to help users find products easily.

Visual hierarchy

Use contrasting colors, size, and typography to emphasize important elements such as call-to-action buttons and product images.
Optimise product pages
Product pages are critical in the buying journey, as they provide customers with the necessary information to make a purchase decision. To optimise product pages, consider these factors:
Detailed product descriptions

Provide accurate and comprehensive product descriptions, including specifications, features, and benefits. Use bullet points to make the text easily scannable.

High-quality images and videos

Showcase your products with multiple high-quality images and videos that display the product from various angles and in use.

Customer reviews and ratings

Encourage customers to leave reviews and ratings on your product pages, as they help build trust and credibility.

Clear pricing and shipping information

Display prices and shipping costs clearly to avoid any confusion or surprises during the checkout process.
Streamline the checkout process
A smooth and efficient checkout process is essential to minimize cart abandonment and encourage repeat purchases. To optimise the checkout process, consider the following suggestions:
Guest checkout

Allow users to complete their purchase without creating an account to save time and minimize friction.

Progress indicators

Display a progress bar that shows the steps remaining in the checkout process, so customers know what to expect.

Auto-fill information

Enable auto-fill options for billing and shipping information to expedite the process.

Multiple payment options

Offer a variety of payment options, including credit/debit cards, PayPal, and other popular payment gateways, to accommodate user preferences.
Personalise the shopping experience
Personalization can enhance the shopping experience by making customers feel valued and catered to. Implement personalization tactics to improve the buying journey:
Product recommendations

Use machine learning algorithms to analyze customer browsing and purchase history, and recommend products based on their preferences.

Personalised promotions

Offer promotions and discounts tailored to individual customers based on their shopping habits.

Customised email marketing

Send targeted emails to customers based on their browsing and purchase history, promoting products they might be interested in.
Offer exceptional customer support
Providing excellent customer support can foster loyalty and trust, ultimately leading to repeat purchases. Optimise your customer support with these tips:
Multiple communication channels

Offer support through various channels, such as email, live chat, phone, and social media, to accommodate different customer preferences.

Fast response times

Respond to customer inquiries promptly to address concerns and avoid frustration.

Knowledgeable support staff

Ensure that your support team is well-trained and knowledgeable about your products and services.
Transparent and flexible shipping and delivery options
The final step in the buying journey is the delivery of the product. Transparent and flexible shipping and delivery options can significantly impact customer satisfaction. Consider these strategies to optimise this aspect of the buying journey:
Shipping options

Offer a range of shipping options, such as standard, express, and same-day delivery, to cater to varying customer needs and preferences.

Accurate delivery estimates

Provide accurate delivery estimates based on the customer's location and chosen shipping method. Update customers with tracking information to keep them informed about their order's progress.

Free shipping

Consider offering free shipping for orders above a certain value or during promotional periods to incentivize purchases.

Easy returns and exchanges

Develop a straightforward returns and exchange policy and communicate it clearly to customers. Offer prepaid return labels and a hassle-free process to encourage customer trust and loyalty.
Gather and analyze customer feedback
Continuous improvement is crucial for optimising the buying journey. Gathering and analyzing customer feedback can provide valuable insights into areas that need improvement. Implement these practices to collect and utilize feedback:
Post-purchase surveys

Send customers post-purchase surveys to gather their thoughts on the buying experience and identify areas for improvement.

Social media monitoring

Monitor social media channels and engage with customers to gather feedback and address any concerns.

Web analytics

Use web analytics tools, such as Google Analytics, to track user behavior and identify trends and issues that may impact the buying journey.
Optimise for search engines
Optimising your e-commerce website for search engines is crucial to attract potential customers and drive traffic. Implement search engine optimisation (SEO) techniques to improve your website's visibility on search engine results pages:
Keyword research

Conduct keyword research to identify relevant keywords for your products and target audience. Incorporate these keywords into your website content, meta tags, and URL structure.

On-page optimisation

Optimise your website's content, images, and HTML tags for search engines, and ensure that your site has a clean and logical structure.

Quality backlinks

Build high-quality backlinks from authoritative websites to improve your website's credibility and search engine ranking.
Optimising the buying journey on an e-commerce website involves multiple steps, from enhancing website usability to providing transparent and flexible shipping options. By implementing these strategies and continuously gathering customer feedback, businesses can create an exceptional shopping experience that fosters customer satisfaction, loyalty, and increased sales. If you are looking at partnering with an agency that can assist with these tasks, Get in touch to discuss requirements and see how we can help!
Related Posts
What our customers are saying about our services
Get your company heading in the right direction with our digital solutions. Dont just take our word for it though.

"Have been working with Lee from DWS for number of years. Lee has an unrivalled knowledge of all things Magento. During our migration from Magento 1 to Adobe Commerce, he helped to shape the design and build of the new platform, and his expertise was instrumental to the success of the project. As well as offering ongoing support, Lee was always on-hand to assist with any additional development needs, both during and after the project. His positive attitude and excellent communication skills made working with Lee easy and efficient."

"I've worked with Lee at DWS on a number of complex projects across different ecommerce platforms and disciplines. He's fantastic at managing multiple stakeholder's expectations, taking an (often loose) brief and bringing it to life in a timely manner. I know I can always rely on him to add value when it matters most"

"DWS has been a brilliant for our website/business, ever since we started working with Lee over 5 years ago. He has always been honest (at times brutally) and has always made himself available when we have needed him, communication has never been a problem too! Our website has been the point of many positive conversations with our clients and I dare say our website has been the reason a number of clients have joined us. We already have plans for an upgrade later this year and we are looking forward to seeing the magic he works for us again!"

"DWS have been absolutely amazing developing and maintaining our website. They are easy to deal with and the service is great and we must have been using them for around 10yrs"

"When Lee from DWS set up our website several years ago, we saw a huge spike in leads, both phone calls and emails, so much so that we have reduced other advertising to almost nothing. If there's an issue, an update or we want a change on the site, it's never a problem and is sorted quickly. I have no hesitation in recommending DWS."